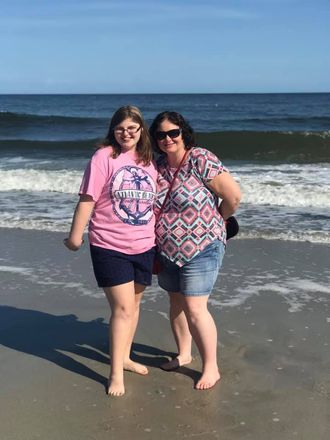 Letter from the president
     As the mother of a special needs child your life if built around hope, prayer, small and large achievements that you didn't think you would get to see. When Kelly was 14 months old, I took her to her pediatrician and asked them why she was not sitting up and holding her bottle. The pediatrician informed me that she was just lazy, and I was very persistent that something was happening. After being sent to an orthopedic doctor, that made it out like I was being an overbearing Mom. I requested to go see another orthopedic who diagnosed her with a frozen shoulder and put her in physical therapy. Thankfully, the physical therapist diagnosed her with Cerebral Palsy and had the physician send her to Duke hospital. After testing at Duke it was confirmed that she had Cerebral Palsy and had due to having an In-Utero stroke while I was carrying her. I will never forget the day that the physician came into the room and put his arm around me and stated, "Just remember that this is not your fault and don't try to figure out what caused her her to have a stroke while you were pregnant. This is new to us in the medical world, and we are still trying to figure out ourselves how this occurs. Don't blame yourself for something that even the medical field has yet to figure out." Those words were stuck in my head for a very long time and still come to remind me on those days that I need reminding that it is just something that happened to us, but it wasn't our fault. 
     She has been a blessing to me and has truly taught me that anything in life is possible regardless of the disability handed to her. In life we take so many small things for granted, but she takes it as another achievement in life. I remember being told that she would never talk or walk. Wow, were they ever wrong! She can walk, run and talk your head off now. Being a parent for a special needs child has not only been rewarding, but challenging as well and I wouldn't change it for the world. 
     Everyday is another battle that I constantly push my way through. If you are not trying to figure out what services are available to assist your child with what they need, you are fighting the school system with ensuring that they are getting the "free and appropriate" education that they deserve.  Watching your child struggle with everyday battles that goes along with their disability and knowing that you can only do so much to help them takes a lot out of you physically, mentally and emotionally. I chose to not only advocate for all the other families out there struggling to ensure that their loved ones with developmental disability are receiving the best services that they can get. 
     I am a Program Director at A Caring Heart Case Management, Inc. and I absolutely love working with not only the consumers, but also the families. Being asked to serve on the Board of Don't Call Me Strange has been a real honor and means more to me than you can understand. When I was voted in as being the first President for the Board, I had a rush of adrenaline knowing that I was going to be working beside some of the best!  Everyone is here to offer families and individuals with special needs the opportunities to receive the assistance to better provide their loved ones with an education, the ability to grow through life skills and most of all the support that they need to ensure that their loved ones are receiving the quality of life that meets their full potential. It is my goal to assist the co-founders Crissy Oravits, Robin Davis and Steve Gardner, with ensuring that families are aware of the services and organizations that can assist them through the good and bad times. 
     It was always a challenge for me as a parent in finding out what was available for my child, where I could find the right shoes that would fit her, where I could receive the best medical care to meet her needs, what supplies she was available to receive and where to get them, finding the augmentative devices to meet her needs to communicate when she was not able to communicate her needs and wants to me, and the many other obstacles that were faced with.  The list goes on and on and I want to help make the journey for parents and families with special needs children so much easier. Families should be able to focus on their loved ones and not with the battles that they. have to fight along the way while being caregiver. 
Much Love, 
Sandy Harris
2020-2021 President of Don't Call Me Strange